Ever feel like you need a parenting check-up? Do you have days where you need to refocus on your ministry as a mom (or dad)? Do you have days where you feel like you just haven't measured up and need to refresh your heart? Do have areas of sin that you need
"surgery"
on? Do you have trouble explaining your role as a parent/disciplinarian to your children?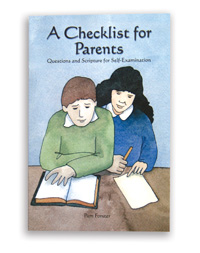 Today
Doorposts
is hosting it's
2nd day
of giveaways with
A Checklist for Parents - Questions and Scripture for Self-Examination
. Some days I just need something to help me check my attitude towards my husband and my children...along with my attitude towards God. This sounds like a great resource for my husband and me. Make sure you stop by
their blog
and become a follower (facebook, email, blog follower) to qualify for this giveaway.